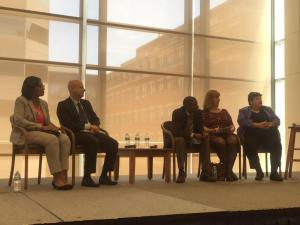 By Renee Baharaeen, AASCU Civic Engagement Intern and Truman State University Student
The College Readiness Institute – hosted in Washington, DC by Reach for College! – brought together educators and community organizers this past week to learn about preparing students for college success.
The first day of the institute featured influential guest plenary speakers including Terry Reed (George Washington University), Eric Waldo (White House Reach Higher Initiative), Ivory A. Toldson (White House Initiative on HBCUs), and Tobi Printz-Platnick (The Morris and Gwendolyn Cafritz Foundation). The speakers shared their insights about education and problems currently facing the U.S. system as well as ways they believe the country can improve.
On day two of the event, students from George Washington University's early college program spoke about their current experiences in the education system. The panelists highlighted challenges they faced as well as what allowed them to be successful.
The institute also offered several breakout sessions and workshops to provide educators and community organizations with classroom tactics that will engage students in viewing post-secondary education as a realistic goal. Workshops ranged from teaching strategies for helping students navigate the scholarship process and prepare for the SAT/ACT to addressing the relationship between students, teachers and parents.
Learn more about Reach for College! on the organization's website.