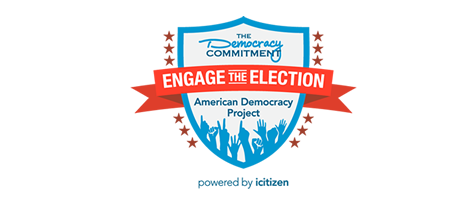 The Democracy Commitment has partnered with our four-year public colleges and universities colleagues AASCU's American Democracy Project to create a year-long Engage the Election 2016 initiative powered by icitizen, a leading civic engagement app. Together we launched this initiative on January 12, 2016 with a State of the Union event. This initiative will include a series of comprehensive nonpartisan activities from now through the inauguration of our next U.S. president. Click on the link above or to the right to access all webinars, resources, and tools.
The Democracy Commitment (TDC) and the Center for the Study of Community Colleges (CSCC) have embarked on a collaborative effort to assess the ways in which community colleges contribute to the development of students' civic learning and democratic engagement. Anchored by an annual survey of students at participating TDC colleges, the project utilizes statistical modeling to explore the ways in which college characteristics and college student behaviors (such as voting in student elections) lead to greater electoral participation, democratic engagement, civic agency, civic capacity, and civic knowledge among students.
Data collected through the annual survey of civic outcomes provide invaluable information about the effects of college on students' civic learning and democratic engagement. Further, as the project matures, survey data may also be examined for its relationship to more traditional academic variables such as GPA, persistence, and graduation rates. Such analyses will not only allow us to assess how an institutional focus on civic engagement leads to improved civic outcomes, but also how it may contribute to students' ability to succeed in college.
The Civic and Community Engagement Survey is currently open to all TDC member institutions and will be implemented next in spring 2016. In addition, efforts are currently underway to institutionalize the project within various state-level initiatives aiming to incorporate student learning outcomes associated with civic and democratic engagement.
More information about the Civic and Community Engagement Survey, including the annual administration timeline, links to survey instruments, related research and publications, and information about how to participate can be accessed via the side-bar to the right of this page.

The Economic Inequality Initiative is a three-year combined ADP/TDC effort to further engage individuals in the issues surrounding the inequities established by differing socioeconomic statuses, and examine how it affects our democratic process. There are 30 institutions taking part by uniting faculty, students, and community members alike in their discussions and projects encompassing topics such as public policy, economic inequality, economic opportunity, and social mobility.
See specifics of what some of these institutions are doing below:
New Economic Inequality Campus Mini-Grants for 2015-2016
We are excited to announce that we are able to offer campus mini-grants of up to $1,000 per ADP/TDC Economic Inequality participating campus for the purpose of advancing the work of this initiative on these campuses. Participating campuses interested in applying for the mini-grants must complete the two forms below:
TDC Participating Campuses:
Allegany College of Maryland
Kirkwood Community College (Iowa)
Lone Star College, Kingwood (Texas)
Manchester Community College (Conn.)
Monroe Community College (N.Y.)
Moraine Valley Community College (Ill.)
Mount Wachusetts Community College (Mass.)
Santa Fe College (Fla.)
Tarrant County College, Southeast Campus (Texas)
This three-year curriculum and faculty development project is collaboration between TDC and the Association of American Colleges & Universities (AAC&U), made possible by a grant from the National Endowment for the Humanities. Ten community college campuses have been competitively selected to engage humanities faculty and administrators in intensive efforts to infuse courses with questions about difference, community, and democracy thinking.
TDC Participating Campuses:
Chandler-Gilbert Community College (AZ)
City University of New York, Kingsborough Community College (NY)
County College of Morris (NJ)
Georgia Perimeter College (GA)
Kapi'olani Community College (HI)
Lone Star College - Kingwood (TX)
Miami Dade College (FL)
Middlesex Community College (MA)
Mount Wachusett Community College (MA)
Santa Fe College (FL)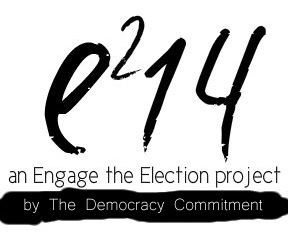 A continuance of our first signature initiative, Engage the Election 2012, the 2014 version focuses on the midterm elections. This initiative encourages our TDC member institutions to host engaging events through which both students and the community can have open, civil dialogue surrounding issues that are often overlooked outside of a Presidential election year. While many argue that the midterm elections are more important than the designation of our nation's highest executive, TDC recognizes that media outlets do not give these particular election cycles the visibility and exposure deserved.
In response, The Democracy Commitment proposes a lofty, yet attainable goal, coined "2-3-4." By November 2014, TDC wants to have expanded its network to 200 community colleges nationwide, to represent 3,000,000 students, and support community colleges in registering 400,000 new voters.
In providing helpful toolkits, coordination assistance, and the generation of local and national resources from partner organizations to staff, faculty, and administrators, The Democracy Commitment believes the initiative will help students in American community colleges be engaged in the 2014 election.
To visit the Engage the Election 2014 web page filled with information and resources, click here.
Engage the Election 2012 
The first signature initiative of The Democracy Commitment was Engage the Election: 2012. This initiative was a push for our TDC member institutions to participate in political forums and town halls, voter registration drives, voter education forums, along with many other on-campus opportunities, as well as a webinar series highlighting TDC national partners and their resources available to TDC member institutions. To see the archives of our webinar series  and check out many of the events that happened on the campuses of TDC members, visit our Facebook page.