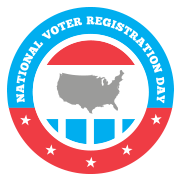 As we kick off the 2015-2016 term we would like to invite you all to participate in a conversation with our colleagues at the Fair Elections Legal Network who run the Campus Vote Project.
With National Voter Registration Day (NVRD) and Constitution Day both coming up in September we wanted to invite you to a discussion on Tuesday, September 15 at 2:00 p.m. – 3:00 p.m. ET regarding democratic engagement in higher education.  We will hear from the Fair Election Legal Network's Campus Vote Project on several ways to incorporate nonpartisan voter registration activity into your campus' cultural.
To join us simply register for this event by Friday, September 11 by visiting this link: https://attendee.gotowebinar.com/register/8807905444442151682
During the call we will also address common election administration questions that students may ask and resources to find out the answers to those issues in your jurisdiction.  We will close with an open discussion of lessons learned from previous and current democratic engagement programs conducted by call participants.
For more information prior to the webinar you can check out:
www.campusvoteproject.org/administrators for several resources.
Also make sure to sign-up by September 1st to be a partner for NVRD and have receive materials to help with your event: http://nationalvoterregistrationday.org/partners